Een blogje voor toekomstig gebruik en referentie. Mijn 2017 in stats.
Muziek
Eerst de belangrijke zaken :) Dit jaar 26,396 nummers geluisterd van 5.009 verschillende artiesten. De top 10: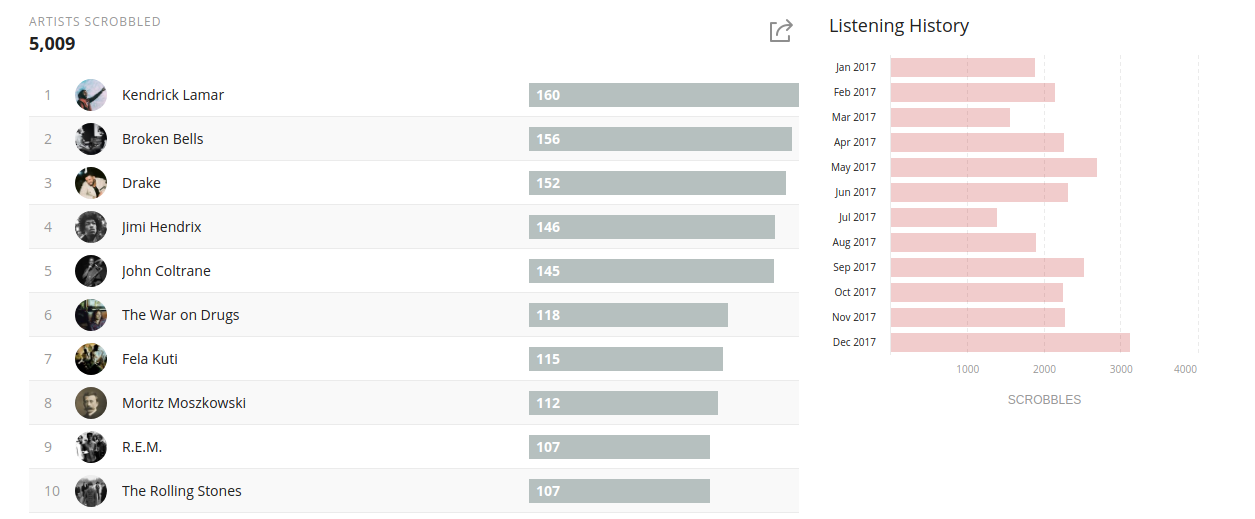 Mijn last.fm profiel.
Concerten!
The XX
The Dears
Donnie (2x)
KRS one
Enter Shikari
Underworld
White Lies
Kris Kristofferson
Mt Wolf
The National
Dire Straits experience
The War on Drugs
Spoon
Juice Crew (Big Daddy Kane, Kool G Rap, Roxanne Shante)
Komend jaar wil ik mijn concertbezoeken wat beter spreiden. En meer lokaal bezoeken. Minder AFAS en Ziggo.
Github commits
Ben er nog niet helemaal hoe ik leuke vanity stats kan maken van mijn github commits.
1.142 commits in 2017.

Mijn github profiel.
Voor 2018 wil ik meer gaan bijdragen aan andere projecten dan die van mijzelf of mijn werk.
Hardlopen
Afstand
Afstand vs pace

Mijn Runkeeper profiel.
Al ben ik wel meer gaan lopen (540 km in 2016), toch mag er nog wel iets extra aan kilometers gemaakt worden dit jaar. En iets vlakker, vast aantal per maand.
Het lag niet echt aan blesures. Gewoon soms geen zin. Twee keer kort gedoe gehad, een keer achilles en een keer knie.
Heb 3 georganiseerde loopjes gedaan, de Puinduinrun (lekker zwaar, 1:00:09), lokale favoriet de Golden ten (48:28) en de Zandlmotorloop (leuke strandloop met Pien, heerlijk weer, geen idee wat de tijd was). Dat is een prima aantal. Leuke en min of meer kleine loopjes. CPC en dergelijke doe ik niet meer, veel te druk.
Fitbit
En nog even een lichtje op Fitbit Premium, waar je centjes betaald voor wat rapportjes en het exporteren van je data. Ik ben nog steeds erg tevreden met mijn Fitbit hoor, maar Premium blijft behelpen.
Naast de ingewikkelde manier waarop je je data moet exporteren (per maand!) bevat elke CSV ook een titel. Dus naast de data zit er een titel in het bestand. De CSV heeft dus een niet standaard formaat.
En bij de Premium rapportjes zit geen optie een jaaroverzichtje te maken. Er valt nog een wereld te winnen.
Dan maar wat data in Google Studio geimporteerd.